On April 4, we set out on what we considered to be our "epic trip". It was our first major outing since retirement, and while we had a general plan, we pretty much traveled day to day, often making reservations for the night around lunchtime. We pretty much went where the whim and weather led us, and wherever WHR NXT took us. This adventure ended (except for paying the bills) on July 26.
And in the fall of the year, we spent a week playing tourist on the Central Oregon Coast, based at Neskowin.

The map shows our route and stops. The list below the map links to our trip diaries and slide shows.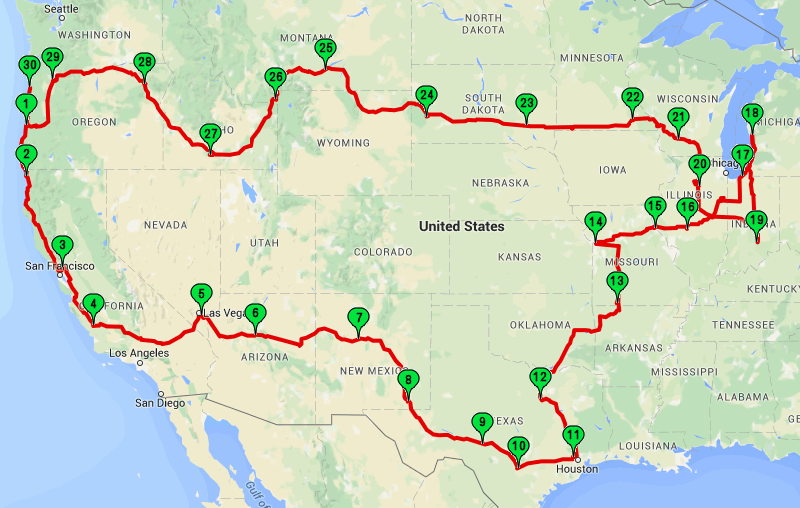 | | | | | |
| --- | --- | --- | --- | --- |
| Stops | Date(s) | Destination | Miles this leg | Cume Miles |
| 1 | 4/3/2006 | And we're off . . . | | |
| 2 | 4/4 - 4/7 | Crescent City, Calif | 160 | 160 |
| 3 | 4/7 - 4/11 | Vallejo, CA | 359 | 519 |
| 4 | 4/11 - 4/15 | Paso Robles, CA | 230 | 749 |
| 5 | 4/15 - 4/22 | Las Vegas | 399 | 1,148 |
| 6 | 4/22 - 4/30 | Grand Canyon Country | 219 | 1,367 |
| 7 | 4/30 - 5/5 | Albuquerque, NM | 368 | 1,735 |
| 8 | 5/5 - 5/9 | Carlsbad Caverns | 290 | 2,035 |
| 9-10 | 5/9 - 5/15 | San Antonio, TX | 465 | 2,490 |
| 11 | 5/15 - 5/19 | Houston, TX | 189 | 2,679 |
| 12 | 5/19 - 5/23 | Ft Worth, TX | 455 | 2,934 |
| 13 | 5/23 - 5/29 | Branson, MO | 485 | 3,419 |
| 14 | 5/29 - 6/2 | Independence, MO | 251 | 3,670 |
| 15 | 6/2 - 6/6 | Hannibal, MO | 200 | 3,870 |
| 16 | 6/6 - 6/8 | Springfield, IL | 108 | 3,978 |
| 17-18 | 6/8 - 6/17 | Muskegon, MI | 422 | 4,400 |
| 19 | 6/17 - 6/26 | Columbus, IN | 318 | 4,718 |
| 20-21 | 6/26 - 6/30 | Spring Green, WI | 487 | 5,205 |
| 22 | 6/30 - 7/5 | Rochester, MN | 175 | 5,380 |
| 23 | 7/5 - 7/7 | Mitchell, SD | 306 | 5,686 |
| 24 | 7/7 - 7/12 | Rapid City, SD | 280 | 5,966 |
| 25-26 | 7/12 - 7/21 | Yellowstone Country | 606 | 6,572 |
| 27-28-29 | 7/21 - 7/26 | Homeward Bound | 1,051 | 7,623 |
| | | | | |
| 30 | Sept | Neskowin Creek | | |
| | | | | |