Nov 1-30 - Spending Money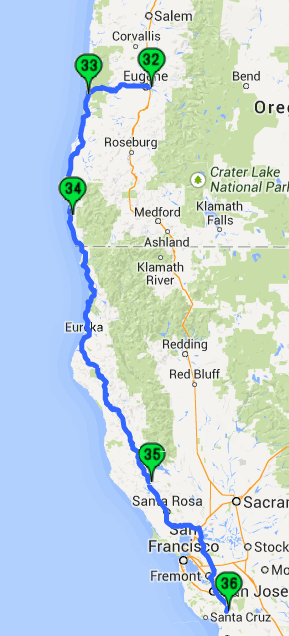 November was, we hope, an atypical month, taken up almost entirely by "gotta-dos". And like most gotta-dos, they tended to be spendy.
We began the month at the Shamrock RV Village in Eugene OR (32) as Judy finished up her physical and speech therapy workouts. We'll probably get the bills after the first of the year. Before we left town, we managed another couple of visits with Judy's sister Joanna.
On Nov 7, therapy completed, we packed up and headed west to the 1000 Trails South Jetty RV Park at Florence OR (33). Our primary purpose was to have some serious dry rot problems in the RV resolved. To that end, we spent 10 days in a cabin at South Jetty while the experts at Florence RV Center did all the hard work. We also managed a couple of visits to our home church in Reedsport and two dinners out with friends Wes and Vendy Lockard. Judy spent some time with harping buddy Ruth Boddy and enjoyed a lunch out with friends Nada Rose and Barb Rondeau. But mostly, we tried to relax, knowing that our home on wheels was undergoing major surgery. And major surgery doesn't come cheap, even on mechanical things.
Water can be the worst enemy of an RV. Several years ago, the seals and gaskets around our living room slideout failed and we got a lot of water inside as we drove south to the factory to get the seals replaced. Plus, unknown to us, a second leak had developed in the roof. The result was that the plywood flooring and wall around the driver's seat developed some serious dry rot, which was discovered last summer when our slide started opening strangely. And during the repairs, it was discovered that the previous owner of our motorhome had covered up (not repaired) some earlier dry rot in the same area, so that was also fixed.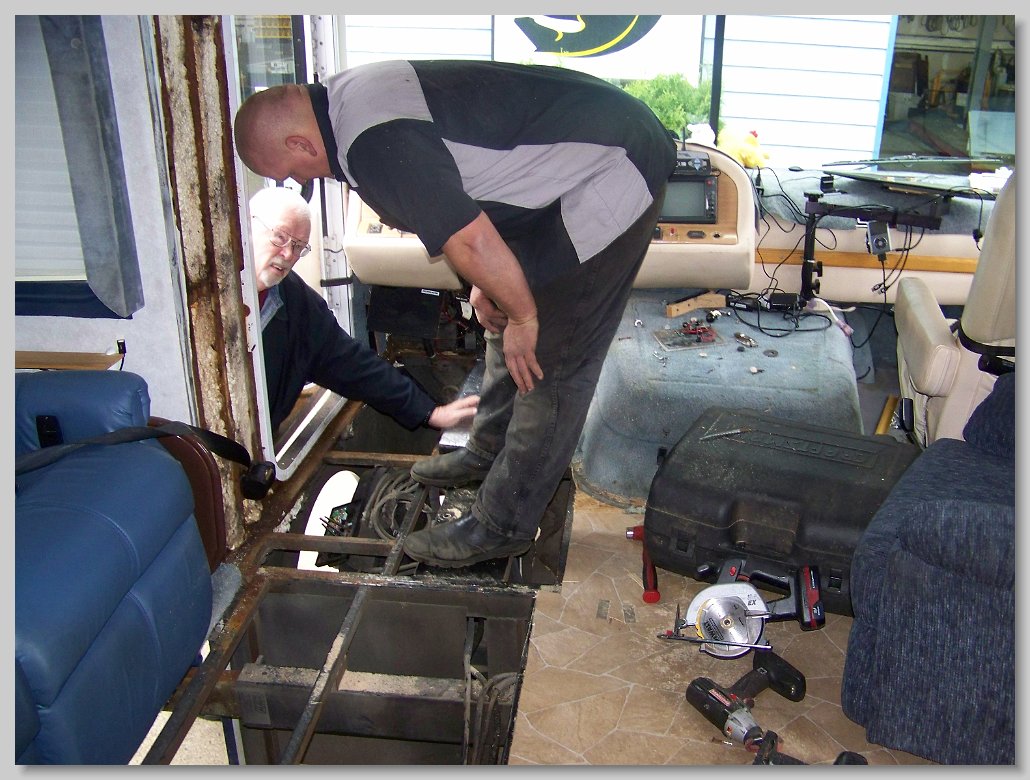 Carl Halvorson did most of the work, cutting out all the bad wood, replacing it with new, and then replacing all the vinyl floor covering. It was sad to see the rig all torn up, but the end result was beautifully done. If you ever need anything done to your RV, we highly recommend the Florence RV Center.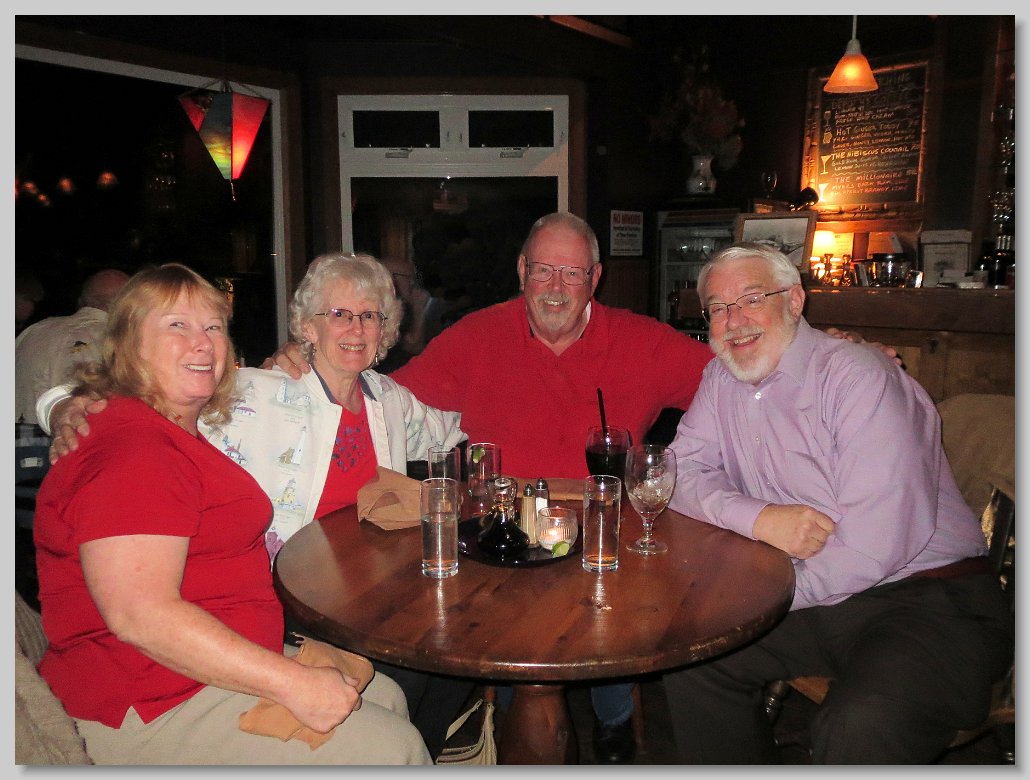 Work completed, on Saturday Nov 23 we finally hooked up and headed south, leaving several thousand dollars behind. Our first stop was someplace we'd never stayed before - the Turtle Rock RV Resort in Gold Beach OR (34). If we'd known for sure when we were going to leave, we'd probably have driven further that first day, but after the stresses of RV repairs, it was nice to be back in our home, and having started out in temperatures around freezing, the 70+ degree sunshine in Gold Beach was absolutely wonderful. And Turtle Rock is a really nice place - close enough to the ocean to hear the surf and walk to the beach.
Next morning, still enjoying the warmth, we started rolling south again. Almost immediately, the GPS software on our laptop that we use for navigating started locking up. Fortunately, we knew where we were going. But still, not having the navigation software was a stress. And it would come back to bite us again. It was a long day of driving, and we arrived at the 1000 Trails Russian River campground near Cloverdale CA (35) just as it started getting dark. It was just an overnight stop, and we didn't leave the park. But next morning, we had a hard freeze and were scraping windshields as we hooked up and headed out again.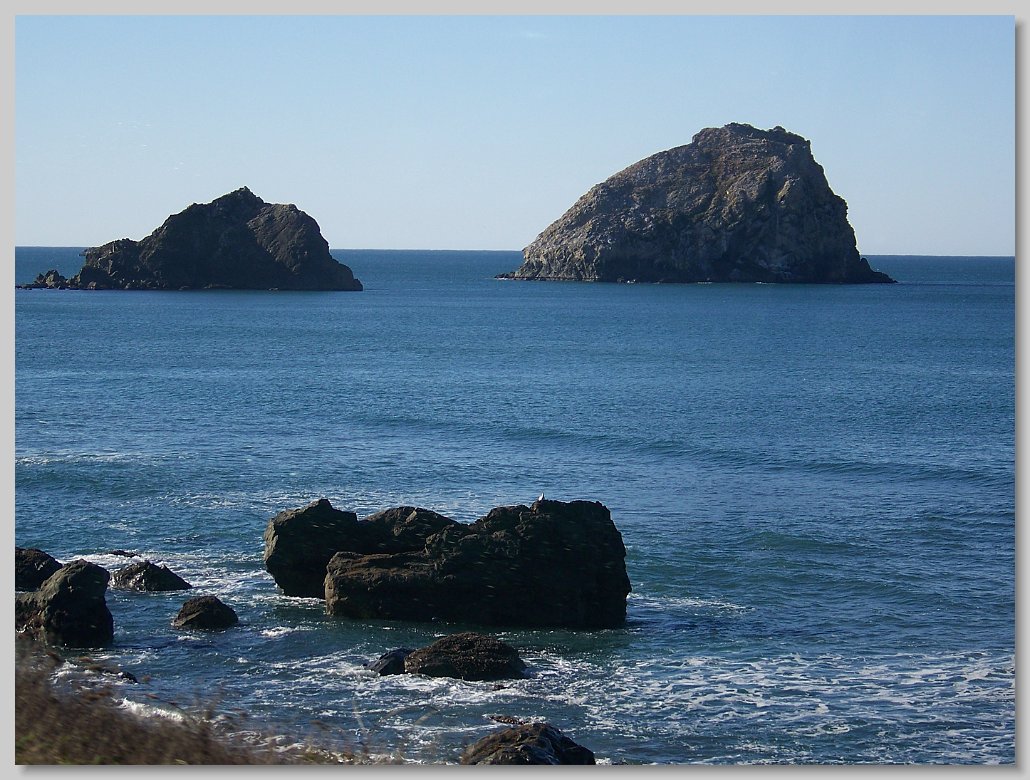 On Monday Nov 25 we headed south again, making several stops along the way trying unsuccessfully to get the navigation software working. Finally, Judy wrote down all the directions and did the navigating as we drove to the 1000 Trails Morgan Hill Resort (36), one of our favorite places. We finished out the month at Morgan Hill, enjoying a delightful Thanksgiving dinner at the Mimi's Cafe in nearby Gilroy (the garlic capital of the USA). We also took advantage of the availability of the local Costco and Walmart stores to restock the larder. And, because we could, we enjoyed two visits to the Five Guys Burgers and Fries in Morgan Hill. We pretty much stayed home during the post-Thanksgiving shopping frenzy, although a Saturday afternoon visit to Costco didn't reveal anything much out of the ordinary. Guess everyone was at Walmart.
Not very many pictures in our slide show this month. Check it out for the whopping huge 10 images it contains here.