May 29 - June 28 - Wandering Around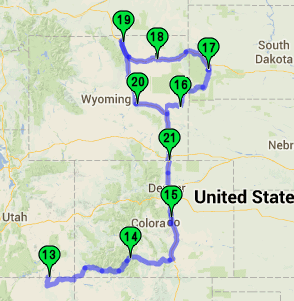 As the map shows, we made a lot of stops in June. So here's our narrative.
On May 29, we left Monument Valley UT (13) and headed generally north. As we don't generally like to go more than 250 miles in a day, we overnighted in the southern Colorado "tourist town" of South Fork (14). We're quite sure there are decent campgrounds around South Fork, but in two stays we've not found one. We stayed at a run-down campground on the edge of town - the only ones in the campground. But the price was right, and we didn't venture out. At all.
Next morning we awoke to frost - first time in lots of months - and managed to find our way out of the campground (there were no marked roads) and got an early start. By lunch time, we were settled in at the Colorado Heights Resort at Monument CO (15), just a few miles north of the US Air Force Academy at Colorado Springs. In our three days at Monument, Judy managed a couple of visits to the local Curves, we had our holding tanks professionally flushed and cleaned, and continued to seek a solution to our car battery going dead while we tow it down the road. It's an ongoing vexation, and we're getting kind of tired of it.
On Sunday June 1 we hooked up and headed north again on I-25. After gassing up at the Sam's Club in Loveland CO, our plan was to spend the night at a nice little campground in Glendo WY. They were completely full, so we continued on and wound up at BJ's Campground in Lusk WY (16), about 50 miles further than we usually go. Next morning, we continued on and arrived at the Hart Ranch Camping Resort (17) just outside Rapid City SD. Rapid City is one of our favorite cities, and Hart Ranch is one of our favorite places to stay. It's like a small town - wide, paved streets, nicely manicured lawns, and about 800 paved RV sites. We settled in for a two-week stay. Besides, the Rapid City area is our official "domicile", so in a sense, we were home.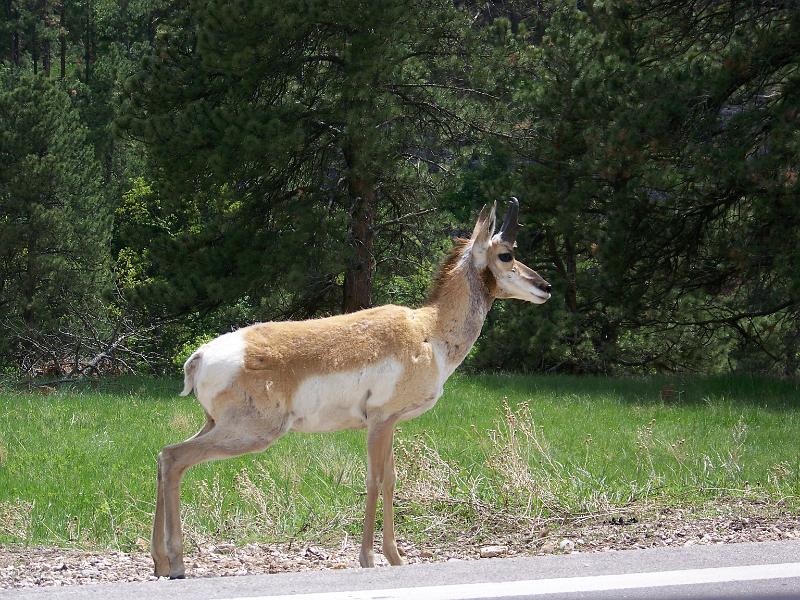 There are lots of nice things about the Rapid City area, and Mount Rushmore is just one of them. We didn't do a whole lot while we were there. Judy patronized the local Curves, of course. We took a very nice drive through Custer State Park, encountering the famous bison herd along with some pronghorn, deer, prairie dogs, and wild donkeys. We'd noticed a lot more pronghorn than usual as we drove through southeastern Wyoming, and finally decided that while there may be more pronghorn than before, it's likely they're just more noticeable. There'd been a lot of rain this spring, and the grasses that had always been brown before were lush and green this time. Pronghorns blend into the brown grass, but haven't mastered the art of turning green as yet.
We first discovered the Black Hills Playhouse on our honeymoon back in 1992, when we saw a production of "You're a Good Man, Charlie Brown". We try to go when we're in the area. The Playhouse is located within Custer State Park, and the professional rep company of young performers do excellent work. This time we saw a delightful comedy entitled "Boeing Boeing". Translated from the original French, it's a farce about an American ex-pat in Paris who has three fiances, all of them airline hostesses, and each unaware of the other two. He manages to keep them separated by masterful use of the airline schedules. The fun happens when some nasty weather and some faster new Boeing aircraft bollix the schedules and put all three in residence at the same time.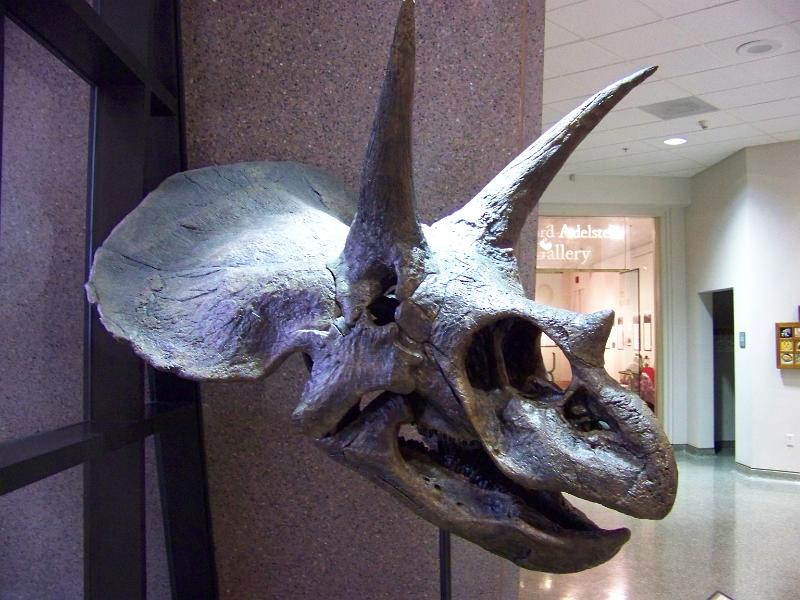 Rapid City has an excellent municipal museum called Journey, which traces the history of the town from the earliest geology to the present day. We visited again this trip. And, because we are us, we enjoyed immensely the availability of a Texas Roadhouse, a Fuddrucker's Burger place, and TWO Culver's Butterburger and Frozen Custard shops. We also rode our bikes around those nice paved streets at Hart Ranch, and watched as a couple of really spectacular storms with baseball-size hail maneuvered themselves around us.
On June 17, we hooked up and headed west to the Camplex Complex at Gillette WY (18), to attend the annual spring gathering of the Family Motor Coach Association (FMCA). We weren't actually due at Gillette until the morning of the 18th, but as we weren't confident we could make the drive by noon on the 18th, we went up a day early, planning on just hanging out until our appointed time. Turns out nobody really cared that we were a day early, and parked us immediately. We'll keep that in mind.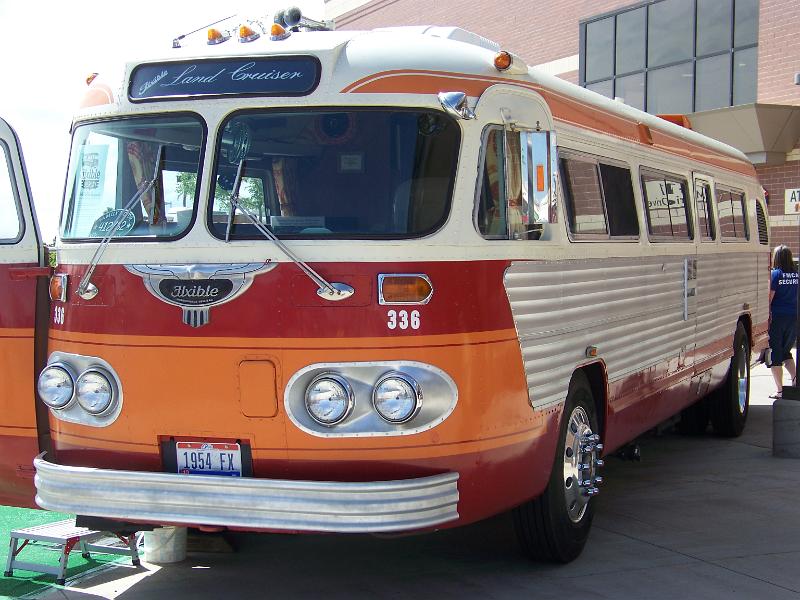 The FMCA rally drew about 2,500 motorhomes, not counting a couple hundred sale coaches. As this was the 50th anniversary year of the FMCA, there were several vintage motorhomes we could tour. All were converted inter-city buses from the '50s and '60s. People were a lot shorter back then - Al couldn't stand up in any of them. We also toured several of the brand new coaches, including one with a sticker price of $1.175 million. Spectacularly luxurious, and then we found out it was actually a used coach - four years old. Imagine trading up from something like that!
The weather didn't cooperate much the week of the rally, and there was lots of rain and wind and some hail. We survived without damage, and unlike some, didn't need a tow truck to get out at week's end. In between the raindrops, we went to a couple of shows, and patronized the vendor halls. It's hard to resist some essential things you didn't even know existed until you saw them on display. It was an enjoyable week.
Gillette proudly bills itself as "The Energy Capital of the Country". Mines in the area provide about 40% of all the coal burned in the US, and all of it is low sulfur coal, about the cleanest burning coal there is. A coal-fired power plant just a mile or so from the rally site produces almost no pollution - less than any other fossil-fueled power plant in the country. It's a nice town with lots of very nice people. This was our second RV rally in Gillette.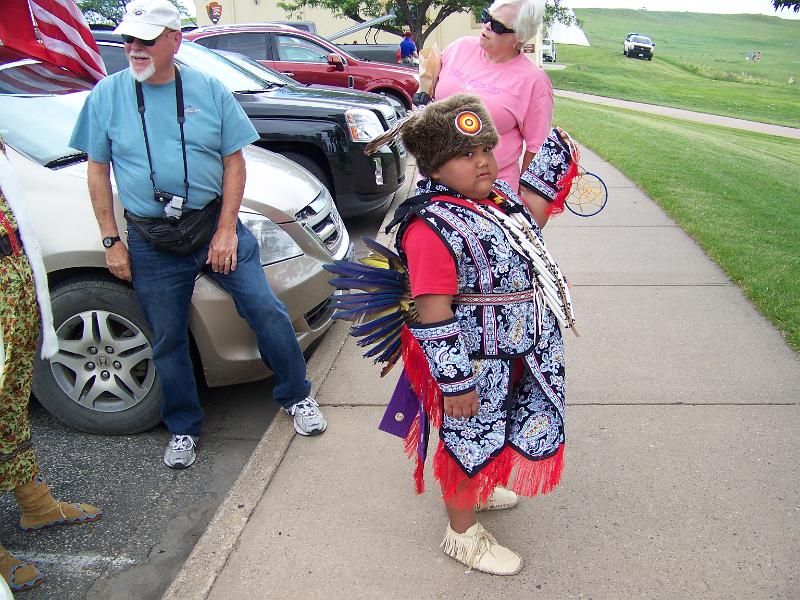 On Sunday the 23rd, we hooked up and headed north about 100 miles to Sheridan WY (19) for a 3-night stay at Peter D's RV Park. It's a well-organized park, and Judy caught up on laundry after we arrived. Next day, we made a day trip to the Little Bighorn Battlefield in Montana, someplace we'd never been. We didn't know that we were just a day ahead of the 137th anniversary of the Battle of the Little Bighorn, and were relieved we'd gotten there when we did. There's not that much parking.
Custer's Last Stand is legendary, and we're glad to see that the history we learned in grade and high school is being corrected. Truth was that Custer and his troops were vastly outnumbered by the Lakota Sioux they were trying to force onto reservations. And Custer ignored the advice of his scouts and went ahead anyway, pretty much guaranteeing the deadly outcome. The battlefield has hundreds of white markers showing where the US soldiers fell, and is starting to sport a few red markers showing where the Native Americans fell. After the battle, the Indians gathered up their dead and wounded and took them away, while the soldiers were left where they fell. Other soldiers that arrived a day or two later were instructed to bury the solders where they fell, and when the remains were recovered and reburied years later, the locations were carefully recorded. Pretty much every soldier's "spot" is marked today, but only a few of the Indian sites have been identified. And there were many fewer Indian casualties, so there will never be as many red markers.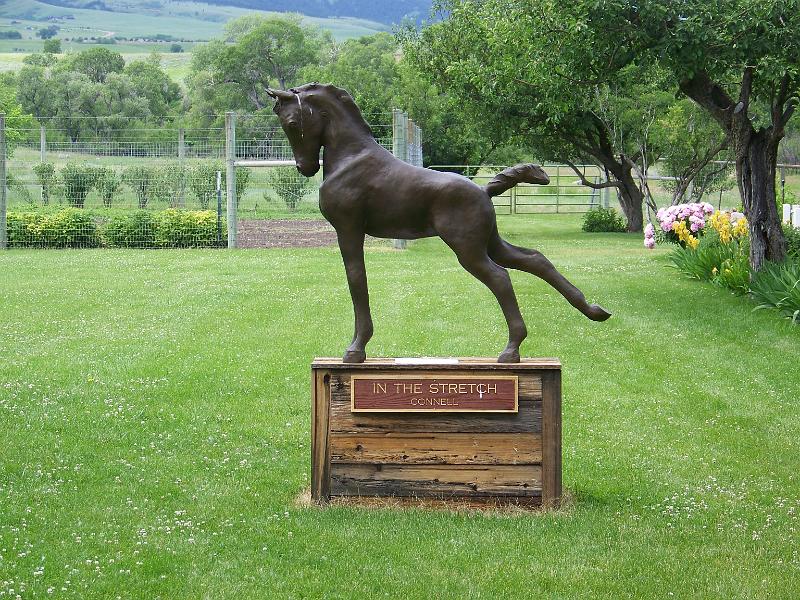 We also visited the Bradford Brinton Museum of Western Art at Big Horn WY, a place we first visited on our honeymoon. Bradford Brinton was an heir to part of the Case Farm Equipment fortune, and became a collector of many things in the 1920s and '30s, but mostly western art. His old ranch house is filled with bronzes and paintings by Charles Russell and Frederic Remington, among others. There's even a Picasso. We were given a fascinating tour of a remarkable collection.
We can't not mention the Wyoming Rib and Chop House in Sheridan. This was our third visit over the years, and each time they've been in a different location. But the food continues to be exceptional. Servings are huge, and we ate two more days on the leftovers.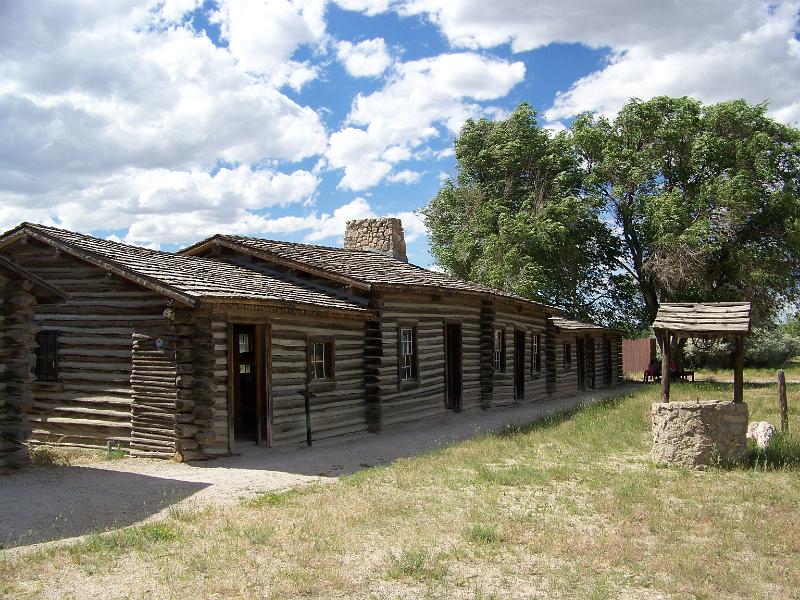 What coal is to Gillette WY, oil is to Casper WY (20), our next stop. We spent just one night at the Fort Caspar Campground, on the grounds of the original fort built to protect travelers on the Oregon Trail. We also toured the local museum to get an overview of the history. Casper was named after a Lt. Caspar, but they spelled the town name wrong. As another fun tidbit, the only picture in existence of Caspar (the person) turns out to have been of someone else entirely! In the last half of the 19th century, the Casper economy was driven by sheep and cattle. But at the start of the 20th century, oil was discovered and soon eclipsed everything else. All the major players in the oil biz built refineries in Casper. There's only one refinery left - a Sinclair operation - and just two oil fields are still producing, although producing very well. The Sinclair field feeds their own refineries, while the Teapot Dome field sells their product on the open market. Yes, THAT Teapot Dome. The "scandal" of the 1920's resulted in two US cabinet members going to jail, and the oil field itself becoming federal property. During the 1940s and '50s, the Teapot Dome field was part of the national strategic reserve, and production was stopped. Today it's still federal property, but production has resumed.
On June 27, we drove the 185 miles south on I 25 to the Terry Bison Ranch south of Cheyenne WY (21). Cheyenne is Wyoming's capital and home to Warren air Force Base. The Bison Ranch is right at the state border with Colorado, and is a commercial bison ranching operation. They also have a nice affordable RV park. We spent just one night and didn't leave the park.
The next morning, June 28, we headed south again to Estes Park CO and a Fourth of July gathering of friends. We'll save that for our next writeup.
Only about 65 pictures in our slide show this time. Check them out here.